A durable, seamless, moisture resistant, flexible skin.
ESPECIALLY FOR ALL TYPES OF ROOFS.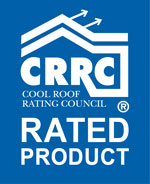 ENESEAL HR is a single component, water based, liquid ceramic-filled membrane which cures to a durable, seamless, flexible "skin" that refracts and reflects heat while providing a moisture resistant barrier to virtually any type of surface…i.e., all types of insulation, certain plastics, concrete, brick, block, slate, tiles, wood, metal, bitumen, glass, tar/asphalts, etc.
ENESEAL HR is easily applied by brush, roller or spray. Because it's water based, cleanup is quick and easy with soap and water. Completely non-toxic and non-flammable.
ENVIRONMENTAL FORCES THAT DESTROY
Sudden expansion and contraction resulting from thermal shock produces incredible stress on roofing – inevitably shortening its life and causing leaks.
Winds drive beneath unsealed areas, lifting and loosening material as well as shaking the structure, moving and twisting the roof.
An improperly sealed roof invites water to seep in and freeze, expanding by 25%, exerting extreme force and cracking protective surfaces.
Atmospheric pollutants produce highly acidic compounds which weaken cement, bitumastic materials and metal flashings.
Heavy loads of snow stress the roof, pushing typical roofing materials beyond their breaking point.
Plant spores and seeds take their toll on your roof.
Roots attack structures physically and chemically and, over time, can be as damaging as any storm.
The cost effective and commercially proven solution to all of these problems: ENESEAL HR!
---
Technical Data
Unit Size:

15 liters

Color:

White

Finish:

Eggshell

Volume Solids:

56%

Vehicle Type:

Water based, elastomeric acrylic polymer.

Shelf Life:

2 years (some settling may occur - mix before use). Store between 41°F/5°C and 95°F/35°C.

Drying Time:

Typically 1 hour under normal ambient conditions. Allow 24 hours before placing components / equipment back in service.

Overcoating:

Additional coat(s) may be applied after 2 hrs under normal ambient conditions. 16+ hours optimal.

Coverage Rate:

35 - 40 ft2 (3.3 - 3.7 m2) per liter per coat. Coverage rates will vary depending on substrate type, surface porosity, texture, etc.

Application Thickness:

6 mils dry film thickness (DFT) per coat (11 mils wet film thickness). Two coats are recommended.

Primer:

(for unpainted ferrous metals and ENESEAL® CR galvanized surfaces).

Thinning:

Use warm water (do not exceed 5% of total volume).

Spraying:

Airless spray. Minimum pressure: 2200 psi
Tip orifice: 0.031 - 0.037 and 5-17.

Elongation:

70% - (ASTM D-2370)

Fire Retardancy:

Applied HR does not support combustion and extinguishes upon removal of flame. - (ASTM D-1360)

Tensile Strength:

125 psi - (ASTM D-638)

Water Vapor Transmission:

1.26 gr / hr - ft2 - (ASTM E-96)

Permeance:

2.8 perms - (ASTM E-96)

Solar Reflectance:

Initial = 0.75. After 3 years = 0.58

Thermal Emittance:

Initial = 0.91. After 3 years = 0.90

SRI:

Initial = 93. After 3 years = 69
Colors

White
Note: Other colors are available on a "special order" basis. However, there are minimum / multiple quantity requirements for such orders and there may be an increase in cost. Additionally, due to formulation restrictions, not all colors are possible for all materials. Speak to your local ENECON Sales Representative for more information.
Due to monitor / printer differences, actual colors may vary slightly from the representations appearing in this chart.
UPC Information
| GTIN | U.P.C. | Product Description | Product Industry | Packaging | Status Label | SKU |
| --- | --- | --- | --- | --- | --- | --- |
| 00850013538027 | 850013538027 | ENESEAL HR - White 1 x 15 ltr | General | Each | In use | ES-100 |
Extended Information
Ask an ENECON Tech
Sign up for ENECON's latest Repair - Don't Replace solution
Case Studies